(The Girls of Spring Hollow Book #3)
Tiger Girl Run, the new preteen/middle-grade thriller, sequel to New Fairy Moon and Living Ghost Time, is now available!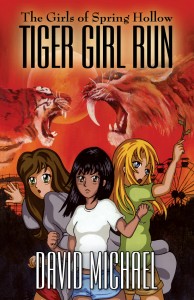 Under the last Full Moon of summer, in the Overlap of Worlds, the Red Moon Faire opens its gates.
Lupe Garcia has never heard of the Red Moon Faire. All she knows is her dream of being a dog and chasing rabbits around Spring Hollow has turned out to be all too real. She has no idea how to change back into her normal girl shape, and now the ghost of a saber-toothed tiger with only one tusk is chasing her through the sleeping neighborhood, roaring at her to return his missing tooth.
Eluding the ghost, Lupe stumbles into the Overlap and the Faire. She's still a dog, but the Faire doesn't care. Everyone–and everything–is welcome at the Red Moon Faire: six-foot-tall intelligent rabbits, tiny Elvs, lizardmen in business suits, and much more.
But there are also shadows at the Faire, and snares for the unwary. And a prisoner desperate to escape–even if the attempt puts Lupe in harm's way…
Available in trade paperback and ebook formats at Amazon, Barnes & Noble, Apple iBookstore, Kobo, Smashwords, and more!