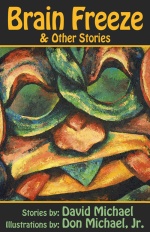 Brain Freeze & Other Stories – A collection of eight Speculative Fiction and Slipstream stories by David Michael, with illustrations by Don Michael, Jr.
"Brain Freeze" – Crouched on all fours, eye nubs just over the edge of the curb, Boollf's ear bones vibrated with the sound of the low churning, the sirens's song, the goal of tonight's mission…
"Callisto" – She came out of the hut and the butt end of a spear hit her in the face. She had only an instant to see the two men, strangers, one of them holding her boys, pinning the boys's arms…
"Indian Summer" – Anna, hurting from the death of her best friend, isn't ready to give up the gray gloom of autumn for the sunshine of Indian summer. But maybe more than just the sun has come back to her.
"Constellation" – The Great Bear looks down on the world and sees a woman, a mother like herself, whose children have been taken from her.
"The Perfect Hiding Place" – The house next door has been sold and the new neighbors are moving in. Do you think they're religious? They seem to have a lot of kids. Do you think they're hiding something? They look ethnic. Do you think they might be worth robbing? No, obviously, they can't be *monkeys*…
"Selene" – Her village is burned, her beloved husband is dead. Only she can save her sons. The Moon bears silent witness as she runs through the night and the storm to reclaim what remains of her life.
"Nostalgia" – Two yellowing Polaroids, snapshots of a little girl at the fair. Two different childhoods separated by the death of her father. One childhood she can't remember, ruined by the one she wants to forget. When her boyfriend's "birthday surprise" turns out to be a date at the same fair, Sharon finds herself face to face with both.
"Evanescent" – She's the girl you meet every year for the first time. She has red-gold hair, sky-blue eyes, and just a splash of freckles across her cheeks. She's as young as you are, or as old. She dances in the rain and splashes in the puddles. She jumps in the leaves and spins with the wind. She steps out of the fog to smile at you, then disappears before you can ask her name…