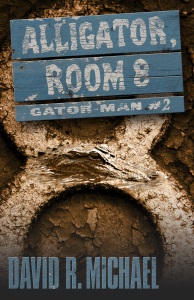 Novella (Gator-man #2)
One year ago, Ash Turner was taken into the swamp, shot in the back of the head, and left for dead.
No longer dead, Ash is now stuck in New Orleans. As the only surviving witness to the "disappearance" of local pillar-of-the-community and suspected crime boss, James Derouen, Detective Marand of the NOPD wants Ash to stay put.
Detective Marand won't listen, but Ash knows James Derouen isn't coming back. Not from where Ash saw him "disappear"–down the gullet of an angry alligator god. That same alligator god has twisted Ash's love for Jamie Derouen, James Derouen's daughter, into an insatiable need to find her and…
Ash doesn't want to think about it. He just needs to get out of New Orleans.
Before he can do what he was brought back from the dead to do.
Published by Four Crows Landing.
Available in trade paperback and ebook formats at Amazon, Barnes & Noble, Apple iBookstore, Kobo, Smashwords, and more!