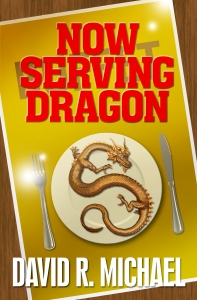 Novel
A Hungry Goddess. The Goddess Queen in Her Kitchen has spent generations Seasoning the World to Her Taste, but She still needs the Final Ingredient.
A Part–Time Dragon. Thara Gold's rent is due and she needs a new job. Right now, though, she hopes she can make it home before her Episode starts. She doesn't want to turn into a dragon on the bus.
A Rookie Dragon Hunter. After 6 months living with his mother, Marcus Nelson is willing to consider any job, even joke jobs like "Dragon Hunter – No Experience Necessary!" It has to be a joke, but he needs the work, and the man with the job is expecting him to show up Friday.
Unless the World Ends the night before.
Available in trade paperback and ebook formats at Amazon, Barnes & Noble, Apple iBookstore, Kobo, Smashwords, and more!