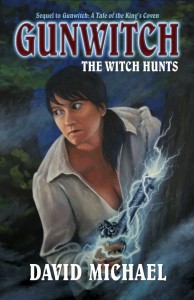 A Storm Threatens…
Once a beautiful settlement named for the fabled Fountain of Youth, Founsteeth has become the stronghold of the Three Captains and their pirate crews.
Rose Bainbridge and Janett Laxton arrive in Founsteeth as black stormclouds loom, and as pirates and colonial military officers meet to swap a noble prisoner for a hefty ransom. Rose, a convicted witch and former Gunwitch in the King's Army, feels almost at home. Young Janett, though, turns heads and more than one of the Three Captains seems to be calculating her possible ransom.
When enemies worse than any pirate strike with the onset of the storm and capture Janett, Rose must head back into the Amerigon wilderness…
A Witch on the Hunt.
Available in trade paperback and ebook formats at Amazon, Barnes & Noble, Apple, Kobo, Smashwords, Sony and more!